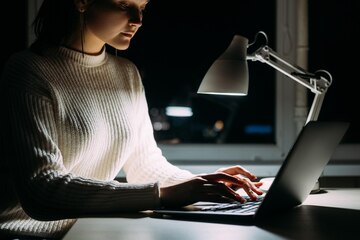 Image Source: Freepik
‍
Let's face it: not everyone has the willingness or ability to relocate for a job. But that doesn't mean remote work isn't an option for you! As the gig economy continues to expand, more and more freelancers find themselves working from home on a regular basis. This can be a great opportunity for remote workers to test their skills and see if they can make freelancing their main source of income. If you're thinking of taking the plunge into freelance copywriting as a remote worker, here are some pros and cons of this career.
The Pros
If you're looking for more flexibility at work, freelancing is a great option. You can set your own hours, choose which projects to work on, and work from wherever you want. Remote work is ideal for non-linear workers who may need to rearrange schedules or take time off when family members are sick or there are other extenuating circumstances. This is especially helpful if you're caring for young children who might have irregular schedules. There's a growing demand for remote workers, which means you have plenty of options for finding work. You can use a variety of tools to find remote work as a copywriter, including virtual assistant websites, freelance websites, and job boards.
The Cons
Freelancing can be challenging and risky, especially when you're just starting out. You don't have the same level of security that you might get from a full-time job, so it's important to have a plan for covering your expenses if you find yourself without any work. Remote workers also tend to earn less than their in-office colleagues. According to the World Bank, remote workers in the U.S. earn 14% less per hour than their in-office counterparts. When you work remotely, it's easy to fall into the trap of unproductive distractions like binge-watching TV shows or surfing the Internet. To avoid this pitfall, it's important to set yourself up with a well-organized workspace and a consistent schedule for staying on track with work.
Remote Working Tools
To make the most of your time working remotely, it's important to find tools that integrate your work with your daily life. Here are a few tools to get you started: Asana – This is a great project management tool for remote workers who need to keep track of team projects. Google Docs – This is a great platform for collaborating on documents with your team. Calendly – If you're scheduling regular appointments with clients, Calendly is a great tool for managing those so you can stay on track with your schedule. Cold Turkey – If you have trouble focusing and need help staying away from distractions, Cold Turkey is a great tool.
How to Find Work as a Remote Copywriter
When you're first starting out, it's helpful to network with other freelancers and get your name out there as a remote copywriter. Join online communities like Remote Working and Remote.co to find remote jobs and connect with other remote workers. Remote communities like these can also be great for asking questions and getting advice from other remote workers.
Final Words
Freelancing is a great way to have the flexibility of a remote work schedule while earning some extra money on the side. But it's important to understand that the road to success as a freelance copywriter is not a walk in the park. It requires discipline, perseverance, and a great deal of self-motivation. It also might not be enough to just be a great copywriter. If you want to be successful at remote work, you'll need to be a great copywriter who can organize their time and be disciplined.