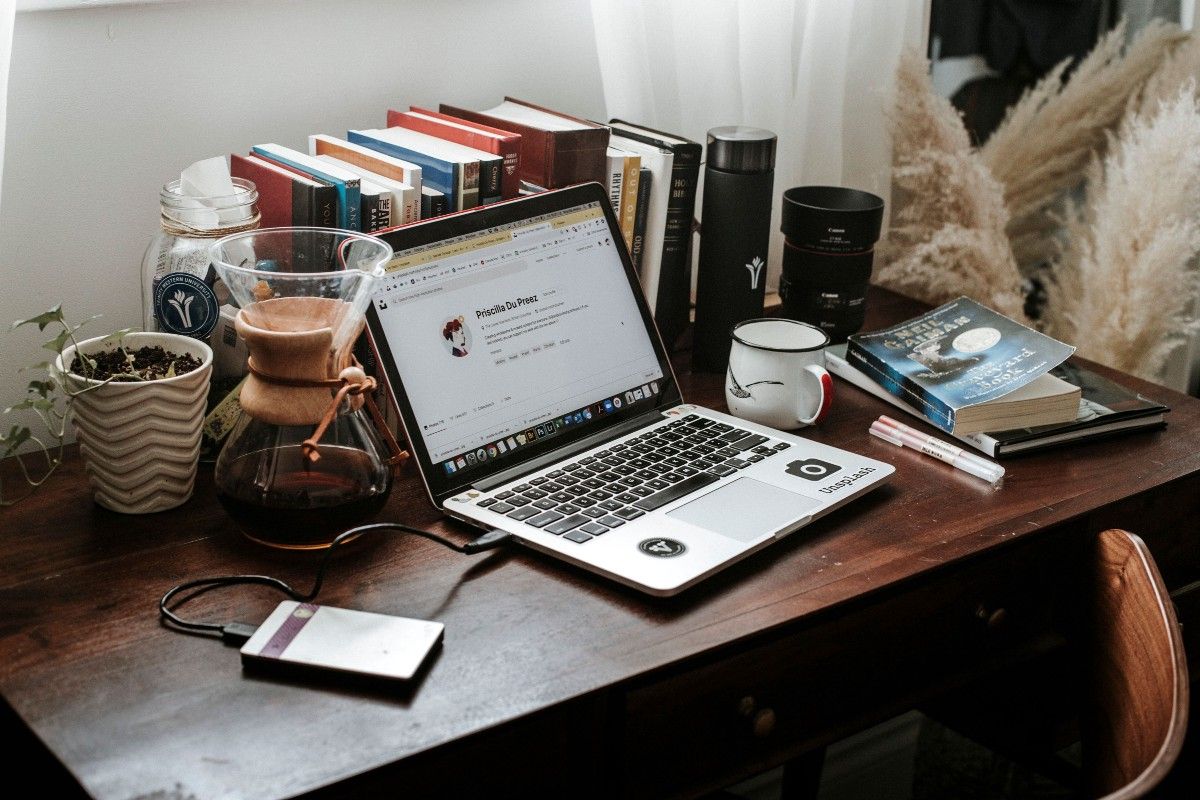 Image Source: Unsplash
‍
According to a Gallup poll, there are almost 26 million remote workers in the U.S. today — and that number is rapidly growing. In fact, it's projected to reach 33% of the workforce by 2021 . And with more working from home options than ever before, it's no wonder that more people are choosing to work from home. Working from home offers numerous benefits including spending less time commuting, lowering your costs related to utilities and car expenses and reducing stress by not requiring you to drive anywhere after a long day at work. Whether you're an employee at another company or an independent contractor, there are countless reasons why working from home can be beneficial for you too.
Make Working From Home Work For You
One major way to make working from home work for you is to be extra diligent about your self-care routine. Without the presence of coworkers, managers and a regular routine, it's easy to let your self-care efforts fall by the wayside. Find opportunities to connect with other remote workers through online forums and peer-to-peer networking sites. This can help you to avoid falling into a pattern of isolation that can lead to even more stress and burnout. Be sure to schedule time for face-to-face meetings with clients and colleagues. You can use video conferencing or an online meeting platform, but the occasional in-person interaction will help you to keep your relationships thriving and prevent you from getting isolated.
Stay Organized and Productive
When you work from home, it's important to keep track of everything. Working from home doesn't give you the benefit of being surrounded by coworkers and other office supplies. Make sure you have a system in place for tracking expenses, client meetings and other items. You should also have a calendar. It can be digital or paper based – whichever works best for you. However you decide to keep track of your schedule, it's essential to have some method of knowing what you need to do and when. If you're working for someone else, you should let them know about your home-based work. Some people work from home occasionally, while others work from home full-time. Make sure your employer is aware of your situation so that they can manage expectations and know what to expect from you.
Have an Ergonomic Workspace
Even if you're working in a well-lit room with no noise pollution, you can still be at risk of developing health conditions as a result of sitting too long at a desk. Sitting for long periods of time can cause health issues like back pain and muscle tension. Unfortunately, even if you go to the gym every day, that doesn't cancel out the health issues that can arise from working at a desk for too many hours. To make sure that you don't end up with an injury related to desk work, you'll need to adjust your workspace to suit your needs. You can do this by: – Making sure you have a good posture. You should try to sit with your back straight and be sure to lift your feet off the floor every so often. – Using a footrest if your desk is high. This will prevent longterm pressure on your legs and knees. – Adjusting your desk chair so that you're not slouching forward or leaning back too far. – Adjusting the height of your desk so that it is at a comfortable level. – Using a wrist support, especially if you type a lot. – Keeping an ergonomic mouse on your desk.
Set Boundaries and Be Clear About What Doesn't Count as Working From Home
If you're a parent who works from home, you'll need to set boundaries and be clear about what doesn't count as working from home. – For example, you don't want to make regular appointments with your child's teacher or let them know that they can call you at any time. You also don't want to leave your child unattended for hours on end. – When you're a parent, you need to be available for your child whenever they need you. You also need to put in the effort and time to care for your child. If you work from home, you'll have to make sure that you're not neglecting your child.
Don't Overwork Yourself
There are bound to be days where you just can't get as much done as you'd like to. There are also going to be times when you're just not as efficient as you'd like to be. Don't try to force yourself to work through these times. Instead, recognize that they are inevitable and will happen more than once. Don't berate yourself for not getting as much done as you'd like to, and don't try to push yourself to work harder on days when you're less efficient. Instead, just acknowledge that you've accomplished what you could and take the time to relax and recover.
Don't Overcommit Before You've Actually Committed
Sometimes, you'll be so eager to let your employer know that you can work from home that you'll overcommit yourself before you've actually committed to working from home at all. Don't overcommit yourself before you've actually committed to working from home. You should only commit to working from home if you're sure that it's what you want to do. If you're still on the fence about it, then you shouldn't commit to working from home yet. Don't let your eagerness get the best of you. Try to work from home if you can, but don't overcommit to it until you're sure that it's right for you.
Take Breaks When Needed
Working from home can be rewarding, but it can also be challenging. You'll need to make sure that you take breaks when needed. If you're starting to feel overwhelmed or if you feel like you're burning out, then you need to take a break. Working constantly with no breaks is a sign of overworking, which can lead to serious health problems. Don't try to push yourself to the point of exhaustion. Instead, take breaks when you need to. Taking breaks will help you to remain energized and focus better.
Establish a Routine for When You Will and Won't Work From Home
When you're working from home, you don't have coworkers to keep you accountable. This can be both good and bad. It can be good because you don't have to worry about feeling like you're letting anyone down. But it can also be bad because you don't have anybody around to make sure that you're doing what you need to do. When you're working from home, it's important to have a routine.
Conclusion
Working from home can be rewarding and cost-effective, but it's important to make sure you take the time to make it work for you! Don't just dive into working from home without making sure that you're prepared for it. Instead, make sure that you've set up your home for success and that you've done everything you can to make sure it's the best option for you. If you work from home and want to share any tips or tricks, please do so in the comments section below. We'd love to hear from you.